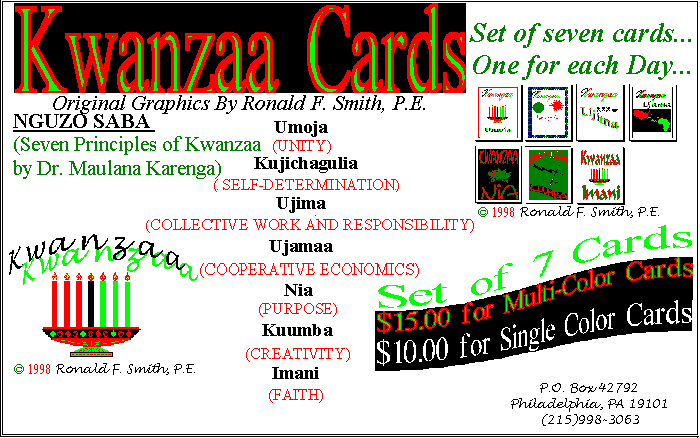 Nguzo Saba (Seven Principles of Kwanzaa)
(Kwanzaa Concept Courtesy of Dr. M. Karenga)

Umoja (Unity)

Unity in the Family
Unity in the Community
Unity in the Nation
Unity among Our People
Unity with Mankind
Unity with Nature
Unity with the Creator

Kujichagulia (Self-Determination)

Communication
Definition of Our Destiny
Creation of Change for Our Community

Ujima (Collective Work and Responsibility)

Work Together to Provide for the Needs of Our Community
Implement Solutions to the Problems In Our Community

Ujamaa (Cooperative Economics)

Build and Support Systems Which Supply Our Own Needs...

Food
Distribution
Sales
Energy

Nia (Purpose)


To Make Our Collective Vocation the Development of Our Community

Kuumba (Creativity)


Develop and utilize our skills and talents to have a positive impact on our community.

Imani (Faith)




Have the Faith to
Use Our Love to

Keep Hope Alive!!
---
:RonaldFSmithPE@hotmail.com
PO Box 42792
Philadelphia , PA 19101
(215) 998-3063

---
Copyright © 1998 Ronald F. Smith, P.E. All rights reserved. No part of this work may be reproduced in any form without written permission from the publisher.